Secure long-lasting cutting efficiency through fluid cleaning
Using high-performance fluids to help with cutting and drilling processes is essential if you wish to maintain efficiency and consistency. The challenge is that the industrial fluid can easily become contaminated if it's not properly cleaned or maintained.
As these fluids are involved in heavy cutting and drilling processes, oil can find its way into the mixture. Once the oil level exceeds 2%, the system needs to be stopped whilst the fluid is changed.
In addition, microparticles can also contaminate the industrial fluid, which can result in a sand-blasting effect on the components surface.
The solution is separation. Alfa Laval equipment can efficiently separate the industrial fluid from contaminants, ensuring less downtime and longer-lasting tools, as well as reducing the risk of damage to the cutting and drilling areas.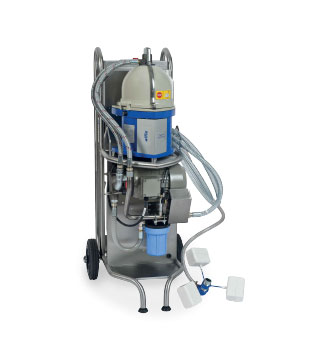 Customer case: Alfa Laval
Alfa Laval's production unit in Eskilstuna improves the efficiency of 40 metal working machines by cleaning the cutting fluids. The fluids are efficiently cleaned by a separator in an integrated in-loop system.
Save resources by cleaning cutting fluids
Cutting fluids are an essential part of many machining processes, and without the right care and attention they become contaminated and can cause problems. By effectively cleaning your cutting fluids, you can avoid these issues and reduce your overall operating costs. In this whitepaper we explain the pros and cons of the different cleaning methods, and help determine which is best for your business.
Removes water, abrasive metal fines and other particles as small as 2 μm

Plug-and-play module for easy installation

No plant redesign required

Disc stack technology speeds up the separation process
Can be linked to a bypass flow, ensuring less downtime for service

Disc stack separators provide simultaneous, three-phase separation of oil and sludge

Designed for operator convenience

No machinery redesign required
Contact us
If you want to find out more about cutting fluid separation, fill in the form and one of our experts will be in touch soon.