Swapping your cooling tower for a dry liquid cooler or an adiabatic cooler is a great way to eradicate the risk of bacteria growing in your water. In fact, more countries are making the change to a more hygienic system a legal requirement every year.
When a dry liquid cooled condenser is far away from the chiller, a high level of glycol is added in the system for it to function correctly. To solve this, we can install an intermediate plate heat exchanger and minimize this circuit. So, you can save on glycol and unnecessary cost!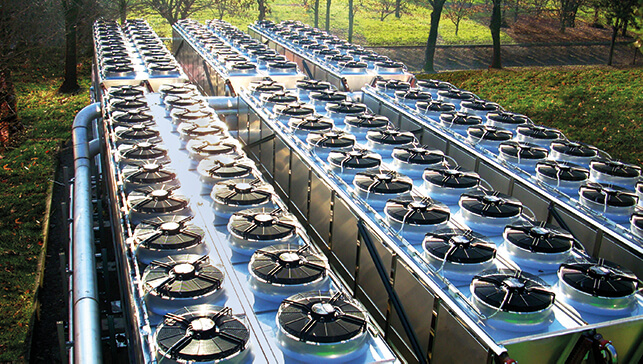 Cooling with heat exchanger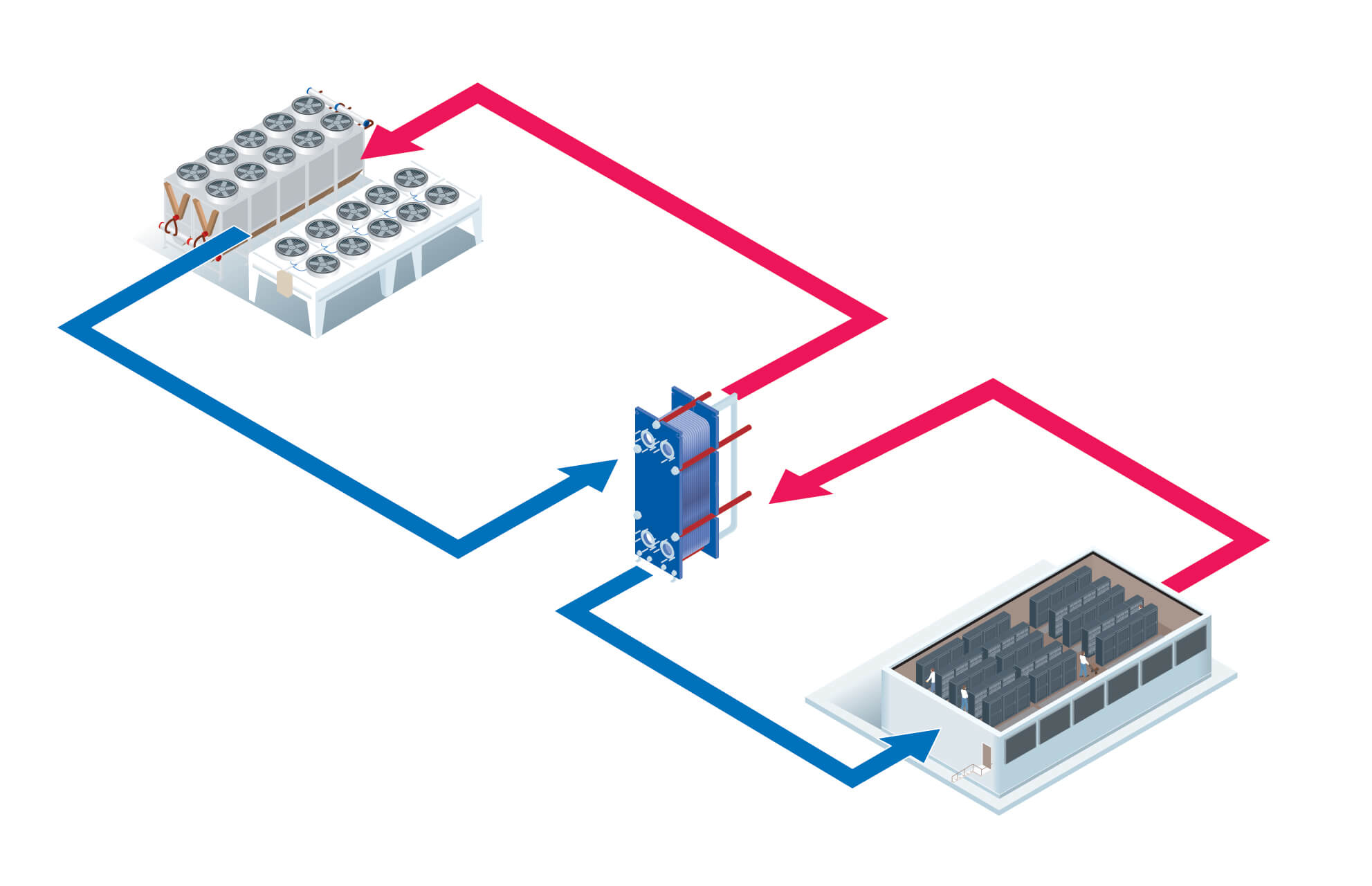 When your dry liquid cooled condenser is far away from your chiller, extra glycol is used to make sure everything works correctly. The volume of glycol needed in this case is very high, and so is the cost. Installing a plate heat exchanger will substantially decrease the glycol circuit, reducing the volume and cost of your cooling system. On top of that, a plate heat exchanger will allow you to control the temperature of your protected loop to fit capacity and help avoid condensation on the outside piping.
Every loop in your system has a natural risk of condensation outside your media when the temperature contrast reaches it's dew point. This condensation can cause damage to the sensitive area inside your data center, so the more loops in your system, the more likely you are to have problems.
Cooling without heat exchanger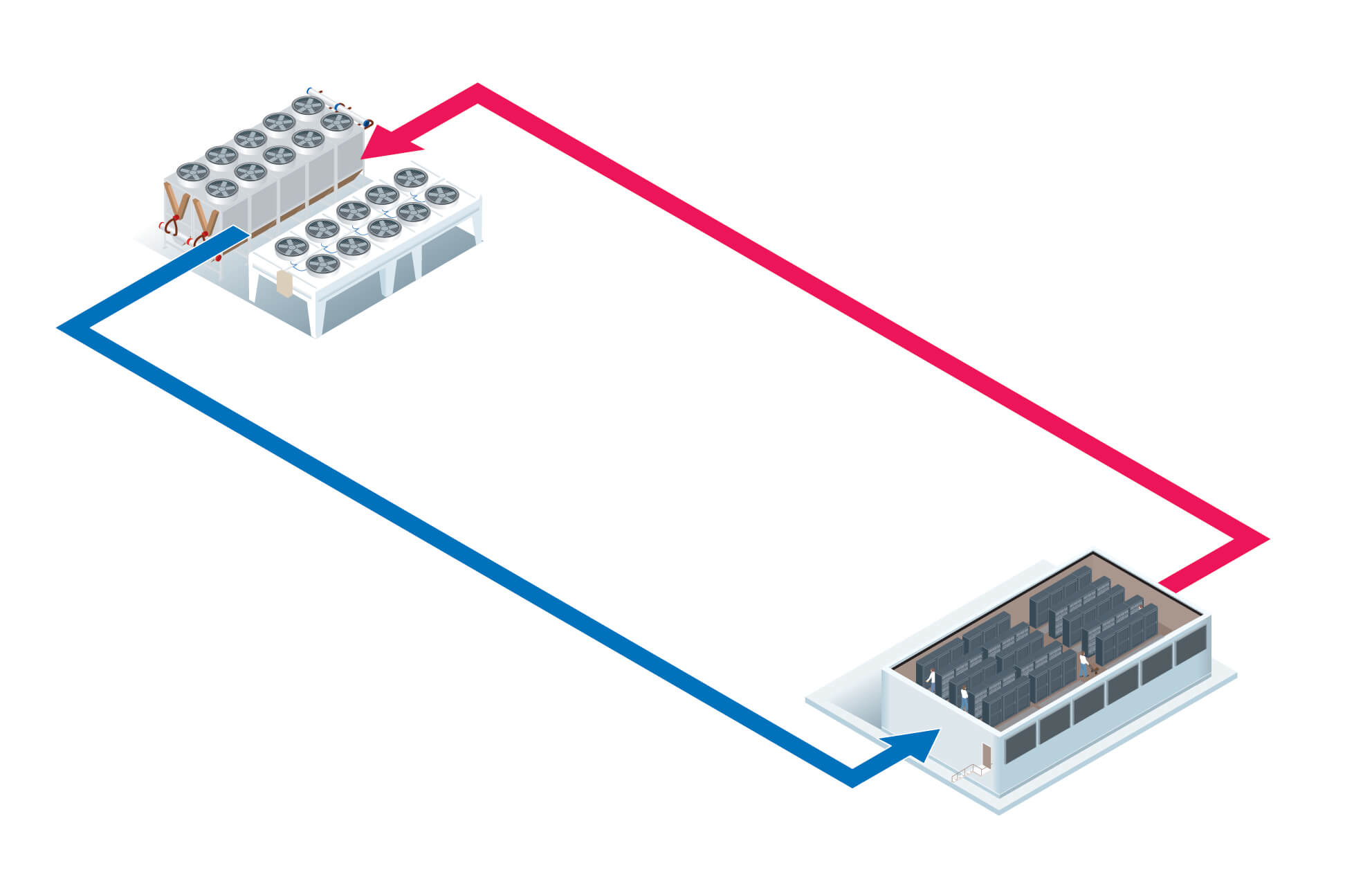 Glycol is used in systems where the outside piping is at risk of ambient temperatures dropping below 0°C/32°F. That said, there are still many benefits to reducing your loop volume, even if freezing the cooling media is not a risk for your system.
Shield your data center with heat exchangers
There are many risks that come with using liquid in your cooling system. So, it's important to protect the white space in the cooling loops from contamination and minimize the risk of leakages around electrical servers.
At Alfa Laval, we are constantly improving the design of our heat exchangers to help alleviate these challenges. To make that dream a reality, we have combined our world-leading expertise in data center cooling with proven heat exchanger solutions. This is guaranteed to increase reliability without compromising on the high efficiency levels you need.
Watch this video with our expert Cosimo Pecchioli to learn more about the challenges that come with using liquids in your cooling systems and how to solve them.
The benefits of a gasketed plate-and-frame heat exchanger
Volume isolation
Minimize the volume of glycol in your cooling circuit
Reduce the risk for condensation and damage inside your data center
Reduce the cost of cooling your production
Certified performance in accordance with AHRI regulations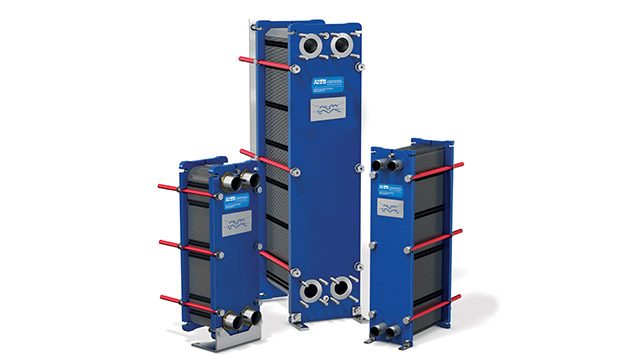 Savings across many dimensions
Combining a dry or adiabatic air cooler with a well-designed gasketed plate heat exchanger is a great way to protect and improve the cost-efficiency and sustainability of your data center. For example, using AHRI performance certified heat exchangers can reduce your power usage effectiveness (PUE) by 1%. It will even decrease the carbon usage effectiveness (CUE) of your facility by the same amount. Plus, a heat exchanger will enable heat recovery, which inevitably means lower OPEX.
Discover the future of green IT with Alfa Laval
Alfa Laval has supplied solutions for cooling server rooms since the earliest days of the internet. Today, we offer a wide range of solutions for data center cooling, all backed by a worldwide service network with experts who understand your business. By partnering with us as you begin planning your data center project, we can help you design a system that ensures you get maximum cooling efficiency and reliability.
Ready to learn more?
Want to find out how we can boost the cost efficiency and sustainability of your data center with smart cooling tower solutions based on leading plate heat exchanger technologies? Contact us today, and our experts will be in touch!