Water purification for green hydrogen production
In the green hydrogen production process, clean water is as crucial as renewable electricity when it comes to generating hydrogen gas. But, with clean water fast becoming a scarce resource, can we really call it 'green'? As a substantial part of the future clean hydrogen demand is dependent on electrolyser production, we have been finding ways to optimize water generation and electrolyser lifetime in a sustainable way. Our goal is to safeguard the development of efficient green hydrogen production with water scarcity issues in mind.
How much water is needed for electrolysis?
Every 10 MW electrolyser capacity requires 50-60 m3/day of clean water. So, how this water is treated is vital if we want to create sustainable green hydrogen. Using salty water with the correct desalination technology, for example, is an ideal way that we can preserve scarce freshwater supplies. With the support of Alfa Laval this solution is both energy efficient and limits any impact on the environment.
Using excess heat to produce pure water
Did you know that 20-40% of the electrolyser capacity is released as excess heat? With the right technology, we can use this heat to generate the right amount of high-quality water, while cooling down the hydrogen production process at the same time.
It all comes down to energy efficiency...
The combined process of reusing excess heat for water generation and electrolyser cooling can increase the overall efficiency of a green hydrogen process by as much as 30%.
Water purification and thermal desalination with the Alfa Laval HyDuo
Alfa Laval HyDuo combines electrolyser cooling and water purification with:
Highest water quality
Smallest footprint
Minimized chemical consumption
Minimized electricity consumption
Low maintenance needs
Variable production
Watch the video to learn more!
Alfa Laval AQUA HyDuo
Up to 60 m3/day capacity
Alfa Lava AQUA freshwater generators convert seawater into high-quality fresh water with an optimized process that uses a single plate pack.
Suitable for electrolyser capacities up to 12 MW per module.
Alfa Laval MEP HyDuo
Up to 2000 m3/day capacity
With the Alfa Laval Multi-effect plate evaporator (MEP), high purity fresh water is produced in harsh environments where variable external conditions occur.
Suitable for electrolyser capacities up to 400 MW per module.
What is the difference between freshwater generator and reverse osmosis?
Compared to traditional reverse osmosis processes, a freshwater generator allows you to cool down the electrolyser and produce the right water quality in one step. This reduces the need for additional cooling, with a cooling tower or similar solution for example, and minimizes overall power consumption.
Competing solutions that use sea water for cooling purposes also often require an extra pump which increases the energy consumption of the entire system. Using Alfa Laval equipment that accomplishes two parts of the same process takes this out of the picture, saving costs in the long term and on the initial investment.
Whitepaper: The most sustainable solution for water purification in green hydrogen production
Energy efficiency and water scarcity are two critical challenges that require immediate attention. Addressing these issues is crucial for sustainable development and the well-being of our planet. Download our whitepaper to learn more about the most sustainable solution for water purification in green hydrogen production.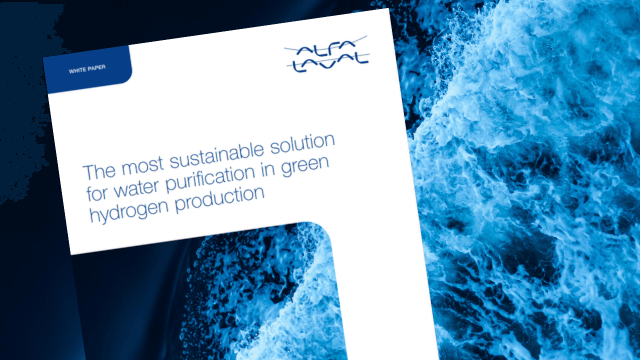 Energy efficient clean hydrogen solutions
Do you want to know more about how Alfa Laval supports in development in the full hydrogen value chain? Explore our offerings in everything from production to end-use.
Optimizing electrolyser cooling processes
Did you know that 20-40% of the electrolyser capacity is lost as heat? Efficient electrolyser cooling and balancing-of-plant is crucial to maximize the efficiency and lifetime of green hydrogen production. Explore how Alfa Laval supports in optimizing electrolyser cooling processes.
There is an ocean of opportunities to catch!
Contact us today for more information about the most sustainable solution for water purification in Green Hydrogen production.